Celebrate your Graduates
Family and guests, plan your day and make graduation a memorable experience.
Plan your day
Spring Graduation 2020 Vancouver Campus ceremonies will take place on May 20 – 22 & May 25 – 28, 2020 at The Chan Centre for Performing Arts, 6265 Crescent Road, UBC Vancouver, BC V6T 1Z1.
Staying on campus
West Coast Suites offer convenient on-campus accommodation during graduation.
Getting here
The Chan Centre for Performing Arts is accessible by car, bus and bike.
Parking at UBC
Payment can be made at pay machines located throughout these parkades.
Special Needs Access at Chan Centre
The Chan Centre is fully accessible to people with disabilities.
When approaching the Chan Centre entrance from the top of the stairwell, please note that there is an elevator located near the Flag Pole Plaza, south-west of the main doors to the Chan Centre. Take the elevator to Level 5 of the Parkade to access the Chan Centre.  Special needs parking is available on Level 5 of the Rose Garden Parkade.
F.M. Hearing System headsets are also available free for charge for the hearing impaired.  For further details or the make special arrangements for your guests, please contact us via email at
chan.tickets@ubc.ca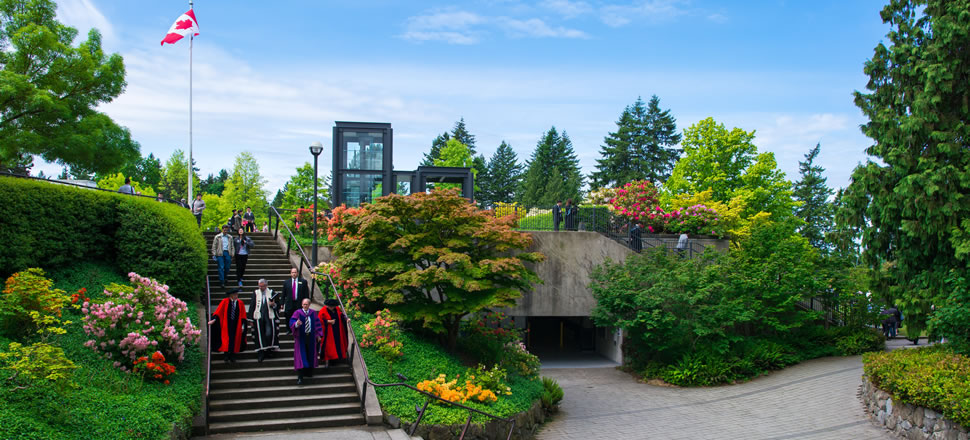 Once you arrive
Family & guests should go directly to The Chan Centre. Doors open 30 minutes before the start of the ceremony. We ask guests to be seated within 10 minutes of the start. Once the ceremony commences, any unclaimed seats will be filled on a first-come, first-served basis.
After the ceremony
The world-renown Nitobe Memorial Garden and Museum of Anthropology are minutes away from The Chan Centre and Flagpole Plaza. Spend the afternoon exploring the highlights of UBC.
Right across the street from the Flagpole Plaza is the Museum of Anthropology. You may already have your diploma but you can still take advantage of free admission – just present your UBC student ID. Have family or friends visiting? Introduce them to MOA's mesmerizing collection of arts and cultures from around the world.
UBC offers many delicious options for nourishment following the ceremony, from farm-fresh fare and hip vibe at Koerner's Pub, to fine-dining with ocean view at Sage, and artisanal stone hearth oven pizzas cooked fresh for you in minutes at Mercante's.
Shower your grad with flowers
Capture the moment
Professional photo opportunities will be available at the graduation reception at the Robert H. Alumni Centre following the ceremony.
Attend remotely
If you're unable to attend in person, you can watch your graduate cross the stage live or after the event. Live webcast will commence 15 minutes prior to each scheduled ceremony.
Preserve the moment
A specially prepared high-definition downloadable copy of this year's graduation ceremonies are available for pre-order now, or for a limited time after the event.
#UBCgrad
Join in the excitement by tweeting, posting and sharing your #UBCgrad stories.
We acknowledge our external partners: