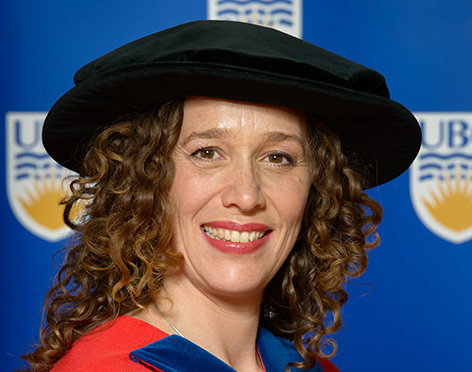 MADAM CHANCELLOR, it is in the context of this university's commitment to sustainability and global citizenship that I am honoured to cite the transformational contributions of Tzeporah Berman.
Ms. Berman's journey toward becoming a leader in the global environmental movement began over two decades ago, when she coordinated the largest civil disobedience protest in Canadian history, resulting in preservation of the old growth forests of Clayquot Sound.
Strategic, articulate and balanced in her approach, she is equally effective in the boardroom as on the front lines of peaceful demonstration. As co-founder and strategic director of the international environmental organization, ForestEthics, she fostered respectful dialogue with, and among, representatives from business, government, environmental and aboriginal communities.
Along the way, she successfully challenged multi-national corporate consumers of forest products to adopt environmental procurement policies, thereby compelling producers to adopt more sustainable harvesting practises. The net effect of this and other related endeavours was the protection of over 66 million acres of endangered forest on two continents, including British Columbia's Great Bear Rainforest.
She then sharpened her focus on climate change as co-founder and executive director of PowerUp Canada. Once again she brought together representatives from diverse interests in support of clean energy leadership in Canada.
In 2010 she became co-director of Greenpeace International's Climate and Energy Program. Soon, however, her overwhelming concerns for Canada's environmental future prompted her return to domestic debates concerning climate and energy policy, oil sands development, and related pipeline issues.
Both principled and pragmatic, Ms. Berman has at times been besieged by critics from within and outside the environmental movement. Still, she has always remained focused on her objectives: the introduction of environmental policy that preserves natural habitat and biodiversity, while recognizing the imperatives for economic stability.
Madam Chancellor, in recognition of informed activism and strategic leadership in the global environmental movement, I ask you to confer the degree Doctor of Laws, honoris causa, upon TZEPORAH BERMAN.