---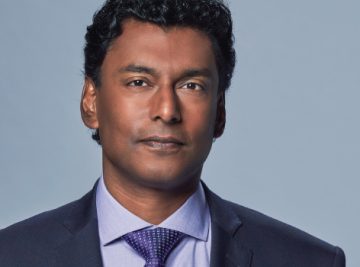 MR. VICE-CHANCELLOR, as a journalist and anchor with the Canadian Broadcasting Corporation for more than 30 years, Ian Hanoomansingh has become one of the most trusted household names in Canadian journalism.

After graduating from the Faculty of Law at Dalhousie University, he began his broadcasting career at radio stations in Moncton and Halifax, and then joined CBC in Halifax in 1986. His assignments soon took him to Toronto and eventually to Vancouver, where he was a national reporter for fourteen years. He was then appointed as the anchor of various investigative news programs, including Canada Now, CBC News Now, and The National.

As a reporter he undertook many challenging assignments, including the 1989 Exxon Valdez oil spill and San Francisco earthquake, the 1992 Los Angeles riot and the Hong Kong handover in 1997. On the lighter side he covered seven Olympic Games, the most recent in Sochi in 2014.

He also developed and hosted a series of innovative live specials, including Downtown Drugs in 1998, which explored the problems and potential solutions in Vancouver's Downtown Eastside, and 2005's Crime on the Streets, broadcast from the prison cells of Manitoba's Stoney Mountain Institution, a program which won a Justicia Award from the Canadian Bar Association for Excellence in Legal Journalism.

His other national awards include the 2008 Gemini for Best News Anchor and the 2016 Canadian Screen Award for Best National News Anchor.

I am pleased to also note his volunteer service to UBC, as a member of the Board of Advisors of the Graduate School of Journalism.

Mr. Vice-Chancellor, in recognition of his distinguished achievements within the profession of journalism, I ask you to confer the degree Doctor of Laws, honoris causa, upon IAN HARVEY HANOOMANSINGH.