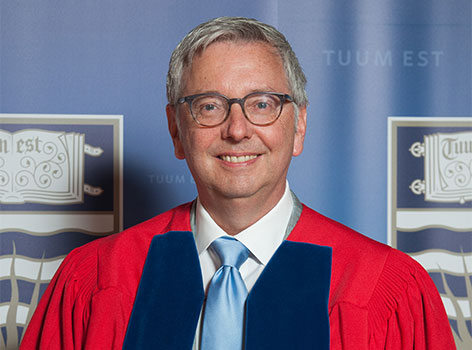 MR. CHANCELLOR, there is no individual less in need of introduction to members of this university community than Stephen Toope, who is unquestionably one of this country's most distinguished legal scholars as well as one of its most accomplished academic leaders.
In 1979, Dr. Toope graduated magna cum laude with a degree in History and Literature from Harvard University. He received degrees in common law and civil law with honours from McGill University in 1983, and his PhD from Trinity College, Cambridge in 1987.
As UBC's 12th President and Vice Chancellor, he provided a critical combination of vision and direction that were essential in guiding UBC through a period of significant growth, and in propelling the university to the highest echelon of academic reputation and distinction.
Prior to joining UBC in 2006, he was President of the Pierre Elliott Trudeau Foundation, and from 1994 to 1999, served as Dean of McGill University's Faculty of Law. His areas of scholarly expertise include legal theory, public international law, human rights and international dispute resolution.
His service to the community includes serving on the boards of non-governmental organizations that promote human rights and international development.
From 2002 to 2007, he represented Western Europe and North America on the UN Working Group on Enforced or Involuntary Disappearances, and in 1994 he was a member of the UN observer delegation to the first post-apartheid South African elections.
Today Dr. Toope is Director of the University of Toronto's Munk School of Global Affairs, where he continues to conduct research within various realms of international law.
Mr. Chancellor, in recognition of his extraordinary accomplishments as a scholar and academic leader, and of his profound and lasting influence on this university, I ask you to confer the degree Doctor of Laws, honoris causa, upon STEPHEN JOHN TOOPE.